Quality Landing Pages with Instapage Web Design Service
We help you create captivating and interactive landing pages with our Instapage web design service that enables you to improve your web presence.
Let's Talk
Let's Get Started
Get 40% off on your first order today!
Instapage website designing company: Enhance your web presence
Designers Stack is the most advanced Instapage web design company in US, working for decades to design fully responsive designs for your industry. We have earned multiple awards for designing top landing pages that boost your conversion rate. Our professional landing page designs help you convert your visitors into leads. We have experienced Instapage designers who can help you increase leads and sales with our customized page designs.
Responsive Designs
Improve conversion
15+ years experience
Professional team members
Testimonials
The Instapage Landing Pages Experience: Success Stories from Our Valued Customers
""I have worked with Designers Stack on two separate occasions and both times they have made a big impact on the work our team was able to accomplish! He consistently delivers high-quality work that aligns with each brand seamlessly. He takes feedback very well and delivers each project on time."

Tracy Turner

Sr. Marketing Design Manager
"Shaks and their team are absolutely incredible! They have delivered countless projects for us with remarkable speed and top-notch quality. We couldn't be more impressed with their work. Highly recommend!"

Alejandro Chouza Sarquis

Co-founder & COO
"I found Designers Stack in 2010, I needed a specific logo created that I had in mind for a unique idea, Designers Stack made it happen and now we use them for all our logos with the same great results."

Tamer Abdel

Chief Technology and Product Officer
"Designers Stack is world-class. I highly recommend working with the Designers Stack across web design & development, UI/UX design, and branding. They have a fantastic work ethic and are a pleasure to work with!"

Ian Brodie

CEO
"The DesignersStack team figured out how to turn my personality into a branded website. I was extremely impressed with the outcome."

Dustin Howes

Founder
"Masters of their work and hard working. Great leadership and an amazing team you can count on to get the projects done and meet deadlines."

Zohaib Momin

Chief Operating Officer
"Designers Stack is the best team of designers and developers I've ever worked with hands down! There are a lot of great designers but not a lot of great communicators and people who can take your vision and bring it to life. .. that's exactly why I always recommend Designers Stack for whoever needs beautiful and high converting landing pages for their business. We wouldn't work with anyone else!"

David Murumbi

Founder
"We contacted Designers Stack to enhance our website aesthetics and design attractive yet easy-to-go interfaces, I must say they did a fabulous job, and going a step ahead they also designed website elements that enhanced our websites overall look"

Adam Horsman

Co-Founder
"We have using Designers Stack services in branding, UX/UI n other areas. They have done extremely good job and our clients are very happy."

Naumeena Sohail

Co-Founder

"Working with DesignersStack has been an absolute delight. Their team is highly professional, and the end product they delivered was nothing short of outstanding!"

Trevor Hatfield

Partner | B2B SaaS Investor
Unlock Your Potential with Instapage Landing Pages
Maximize your online success with our expertly crafted Instapage web design services, tailored to engage your audience and drive remarkable conversions.
Let's Get Started
Customized and Engaging Designs
Our Instapage web design service offers fully customized designs that align with your brand identity and captivate visitors, enhancing their overall browsing experience.
Improved Conversion Rates
With our expertise in landing page design and optimization, we craft persuasive layouts and call-to-action elements, resulting in higher conversion rates and increased ROI for your marketing efforts.
Mobile-Responsive Designs
Ensure seamless access and engagement for mobile users with our mobile-responsive Instapage designs, catering to the growing number of users who browse on smartphones and tablets.
Faster Page Loading Times
We prioritize performance by optimizing page loading times, reducing bounce rates, and keeping your potential customers focused on the content that matters most.
A/B Testing and Data-Driven Iterations
Through A/B testing and data-driven insights, we continuously refine your landing page to identify the most effective design elements and achieve the best possible results.
Professional Brand Image
Our professionally crafted Instapage designs establish a strong brand image, fostering trust among visitors and reinforcing your credibility as a reliable business partner.
Our Instapage web designers create magic for you
Explore our impressive portfolio of Instapage web design services, showcasing visually stunning and high-converting landing pages crafted for a diverse range of clients.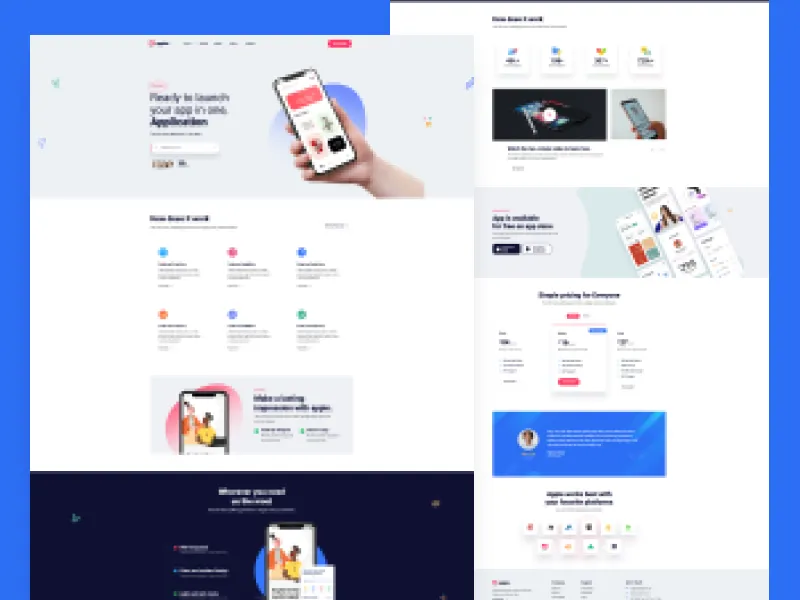 Your ultimate guide to FAQs
Got questions about our Instapage web design service? Check out our frequently asked questions below for answers to some common queries by our experts.